Dear Reader,
Even though I was one of the very few who correctly forecast a Trump victory…
Far, far in advance…
I take no pleasure in this next prediction…
See, a coming event will soon take place…
Early in Mr. Trump's presidency…
That will put in motion the most catastrophic blow to your way of life that you have ever experienced…
***

This event will send shock waves around the world.
So write this date down:
April 30, 2017
Now, as a 35-year international banker and economist that the U.S. government itself turns to when they want to know what's about to happen…
I have no interest in scaring you.
That's not my intent.
But the fact is this:
***

99% of Americans don't realize the danger
facing them by April 30th.
So what exactly is this event?
And how will it affect you?
Before I show you what's about to happen, let me first show you what it could mean…
When this event kicks into gear…
It could gut the value of your savings account
It will unleash absolute chaos in the stock market... sending stocks wildly moving up and down… and ultimately cause a market crash greater than the shocking drop we experienced in 2008…
It will deliver a crushing spike in prices you pay for everything... from gadgets to groceries and gasoline...
Millions of American families will have trouble making ends meet on their monthly cable and utility bills...
Retirees will feel the squeeze most, as their Social Security and pension checks are reduced to just ¼ of what they need month to month for medicine, food and shelter...
Retirement plans of those between the age of 40-65 will be mangled beyond all recognition, forever changing people's expectations for their golden years…
Thousands of people will lose their jobs… sending those thousands into the streets of America to riot…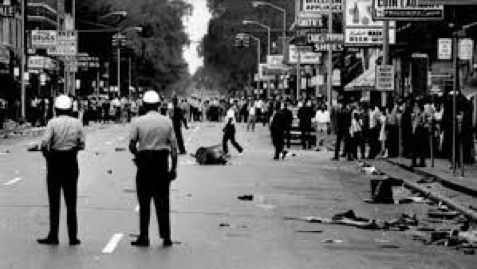 Arrests will occur at an alarming rate, causing our jails to overflow into the streets…
Martial law could be enforced by the U.S. military… you could see curfews... as larger, more violent mobs march and loot businesses in a town near you…
Put simply…
This event will change everything about your normal way of life.
America won't be the same America you see outside your home window right now.
Now…
Let me be clear about something…
I don't fault Donald Trump for what's about to happen in America…
He's an accomplished and sincere citizen who's doing an honest job to "Make America Great Again," as he likes to say.
But what he doesn't know is this...
He is about to walk into a financial and economic trap of historic proportions.
I hope I'm wrong about this…
But just like when I worked with the Pentagon during their first ever currency war games scenario…
I'm simply examining the data, and putting the puzzle pieces together.
Of course, the most important part of this situation is not what is about to happen...
But what you can do about it.
That's why I want to show you exactly what steps I'm personally doing to protect and even grow my money, and how you can do the very same things.
What you'll see is what I'm telling my family to do with their money, too.
None of these steps are complicated…
But they're effective ways to protect yourself during this upcoming crisis.
But before we get to any of this, let me tell you a little bit about why I'm in such a unique position to help you survive what's coming...
Hi, my name is Jim Rickards.
I'm known as the ultimate insider's insider…
I've spent the last 40+ years as an economic advisor to high-level insiders both in Washington and on Wall Street.
I've also been called in to share my risk analysis experience with both the CIA and the Pentagon.
I have tracked economic data and analyzed budgets of the past 6 administrations.
Both the U.S. Senate and the U.S. House of Representatives have sought my advice on the financial direction of our country.
I've even testified in front of Congress about financial modeling and the 2008 financial meltdown...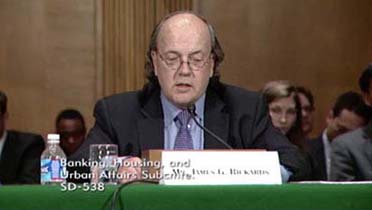 My experience allowed me to warn my clients... years in advance... about that financial collapse and a rise in the price of gold.
Now, you might remember Long-Term Capital Management, the giant hedge fund that blew up in the '90s... and almost took down the entire world stock market.
Well, I was called in by the Fed to be the lead attorney on that case and negotiated the bailout.
I also participated in a closed-door meeting at the Pentagon... to create and oversee their first ever "currency wars" simulation... to expose security weaknesses in U.S. banks.
And if I look familiar to you…
Maybe that means you've seen my appearances on just about every major cable network… from Fox News, t0 CNBC, to CNN and Bloomberg…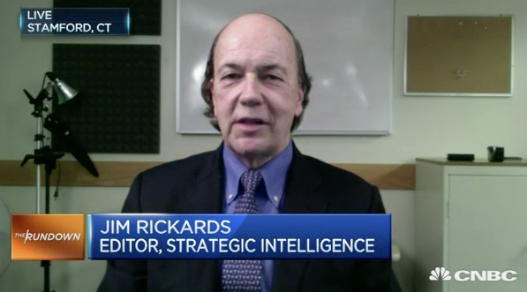 Or you might know me from my two New York Times bestsellers, Currency Wars and The Death of Money.
And maybe you're one of the tens of thousands of well-prepared Americans who bought and read one of my latest two books, The New Case for Gold and The Road to Ruin.
Look, I'm not telling you these things to brag...
But I have spent years developing risk analysis skills to identify the warning signs I'm able to show you today.
And these warning signs have never been clearer during your lifetime…
You'll need to understand the risks…
You'll want to know what to do to get ready and protect yourself…
And you'll want to do it all well ahead of April 30th…
Now let me tell you what this event is and why it could impact you so much...
The Most Dangerous Financial
Threat of Your Life…
In short, my research and experience has brought me to one conclusion…
I believe you are about to see the most horrific explosion of hyperinflation ever experienced in your lifetime.
Now…
I realize you have heard many inflation predictions before…
And those predictions have never come true, have they?
So what makes this time real?
It's something I call "Trumpflation."
And it all starts with Donald Trump's first weeks in office as our 45th president.
Again, let me be clear…
Mr. Trump is not to blame for the lighting of this deadly fuse...
This ticking bomb was created from years of government financial incompetence before his election win.
But, he will unwittingly cause this bomb to explode as he tries to right the U.S. economy.
This "perfect storm" is real and dangerously close to becoming a reality...
And the inflation levels will be catastrophic.
How bad can it get?
The answer will shock you…
But let me back up and show why even normal inflation is so dangerous for you.
The Enemy of Your Cash…
Simply put, inflation is not your friend.
Not even close.
The dangers of normal inflation change your very way of life...
Interest rates skyrocket…
Unemployment soars...
Taxes go through the roof…
Because of higher interest rates, an economy slows down, since money is more expensive to borrow.
Mortgage rates continue to skyrocket until the whole housing market crashes...
Rates on auto loans, credit cards and student loans go to unmanageable levels... causing bankruptcies, repossessions and defaults.
As you can see, your entire way of life is affected…
When Trumpflation Hits... Everyone Loses
(Including YOU!)
Think this type of inflation doesn't affect you if you don't have any investments…?
...or even any savings at all?
Think again…
The true danger of inflation is that it will wipe out the purchasing power of any money you might have in your pocket.
How?
Take a look at this chart: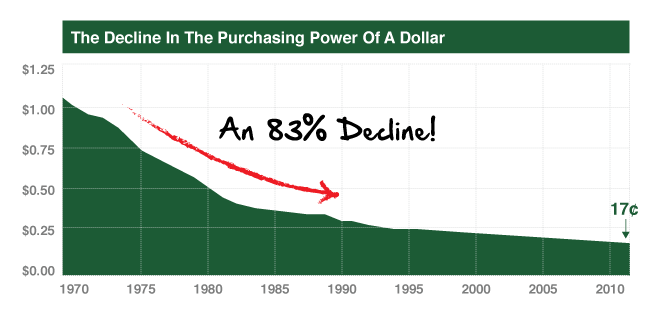 Due to inflation, what we call $1 today would only buy 17 cents worth of goods in 1970.
It not only affects those with investments such as stocks or bonds…
Or those who own homes and small businesses…
It will affect anyone buying even basic necessities.
From the price you pay for bread and eggs…
To the higher interest you pay on the credit card you used to pay for the bread and eggs…
From the increase of your car payment…
To unsustainable gas prices to fill up that car…
But to be clear…
I am talking about a whole different animal with "Trumpflation"...
Your Way of Life Will Change as
You Have Never Seen Before
What I've just been warning about are examples of what normal inflation does to an economy…
But Trumpflation is a whole different level of economic ruin...
What will your world look like when Trumpflation hits?
You don't have to go too far back to see how this level of inflation devastates citizens of a country.
Take the example of Germany in the 1920s...
Weimar Germany was economically devastated after a draining defeat in World War I.
Its debt was enormous.
23 billion marks by 1923.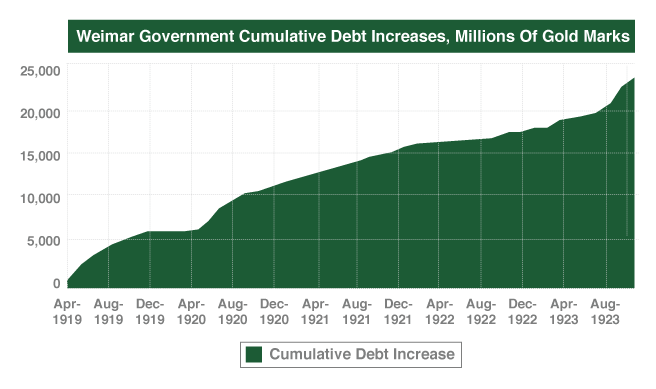 What was their solution to bringing back their economy?
Three words.
***

Massive. Social. Spending.
It began creating transportation projects, modernization of power plants and gas works.
These were all used to battle the increasing unemployment rate.
Social spending was rising at an unbelievable rate.
Take a look at spending vs. revenue: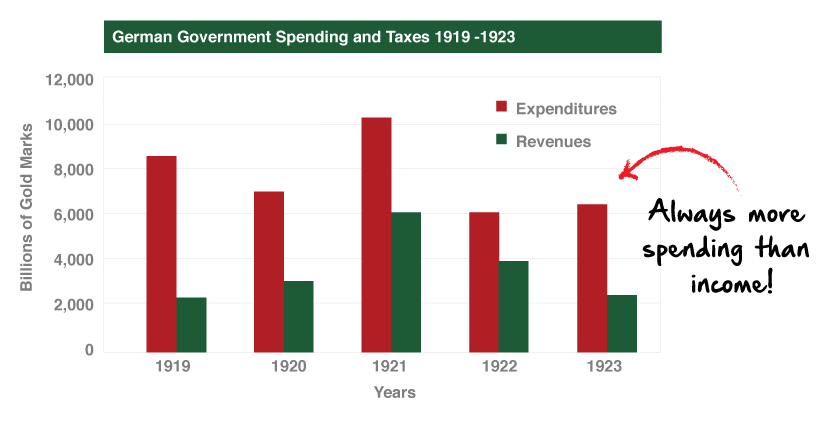 Unable to cover its spending by taxes, the German government ran deficits exceeding 50% of its expenditures from 1919 through 1923.
Because of the massive deficits created from skyrocketing spending and reduced revenue, Germany was forced to get money from somewhere…
So…
They did what governments do when faced with an economic crisis…
They started printing incredible amounts of money.
And once the printing presses started running, it was hard to stop them.
This threw Germany into a state of massive inflation.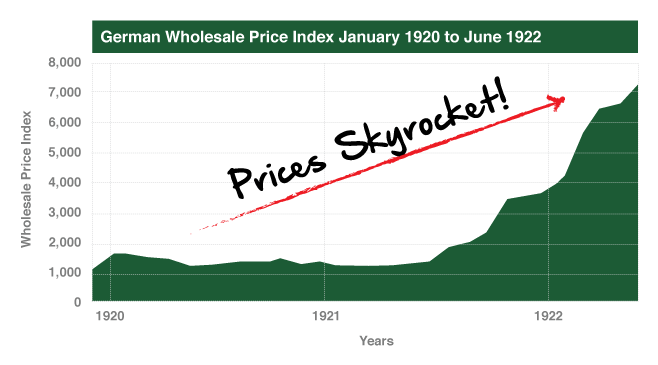 How bad did it get?
It reached the point where millions of marks were worthless.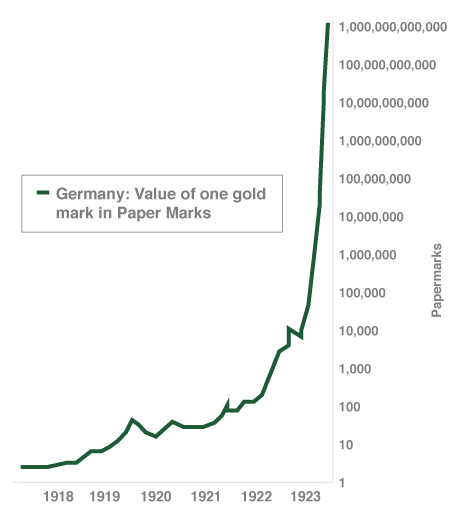 People with wheelbarrows full of money could not buy a loaf of bread.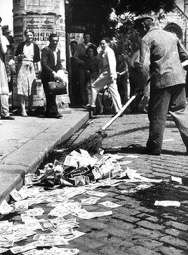 Banknotes became so useless that workers were paid twice a day because prices on goods were going up each hour.
Bundles of money were given to children to play with, being cheaper than actual toys.
It was literally treated like trash.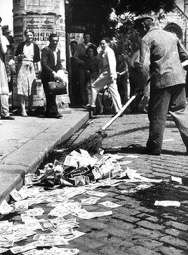 Most Germans were taken by surprise by this financial tornado.
Walter Retzi, an internationally known German oil consultant, said:
"My father was a lawyer and he had taken out an insurance policy in 1903, and every month he had made the payments faithfully. It was a 20-year policy, and when it came due, he cashed it in and bought a single loaf of bread."
The Berlin publisher Leopold Strinski wrote:
"An American visitor tipped their cook one dollar. The family convened, and it was decided that a trust fund should be set up in a Berlin bank with the cook as beneficiary... and the bank to administer and invest the dollar."
Money manager George J.W. Hawthorne wrote:
"Menus in cafes could not be revised quickly enough. A student at Freiburg University ordered a cup of coffee at a cafe. The price on the menu was 5,000 marks. He had two cups. When the bill came, it was for 14,000 marks. 'If you want to save money,' he was told, 'and you want two cups of coffee, you should order them both at the same time.'"
A factory worker described payday, which was every day at 11:00 a.m.:
"At 11:00 in the morning a siren sounded, and everybody gathered in the factory forecourt, where a five-ton lorry was drawn up loaded brimful with paper money. The chief cashier and his assistants climbed up on top. They read out names and just threw out bundles of notes. As soon as you had caught one you made a dash for the nearest shop and bought just anything that was going."
The country crumbled into petty thievery.
Copper pipes and brass fixtures weren't safe.
Gasoline was siphoned from cars.
People bought things they didn't need and used them to barter — a pair of shoes for a shirt, some silverware for coffee...
By November 1923, one dollar was equal to one trillion marks!
The currency had lost meaning.
Imagine…
You could write a check…
And in the several days it typically took for a check to clear…
Inflation wiped out almost all of the cost of covering your check.
Incredible, isn't it?
And this happened to the 2nd largest economy in the world at the time... not some Third World country.
I know what you're thinking…
"But Jim... this type of inflation can't happen in a 21st-century developed economy such as the United States!"
We tell ourselves that hyperinflation might happen in faraway or long-ago places, but it can't happen here...
Well, My Friend... It Already Has!
The U.S. dollar suffered 50% inflation in the five years from 1977-1981.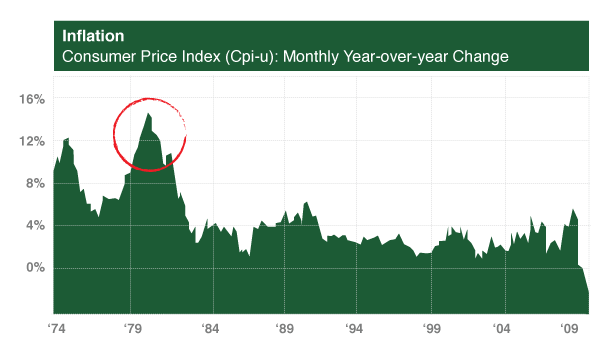 We were at the takeoff stage to hyperinflation…
Exactly where Germany was in 1920...
Most wealth in savings and fixed income claims had disappeared in the late '70s...
Hyperinflation in America was prevented at that time only by the combined actions of Fed Chairman Paul Volcker and President Ronald Reagan.
And remember…
This was happening at a time that most of us lived through...
Not something we read about in history books.
But here's the important thing…
***

The way they stopped that devastation 35 years ago
DOES NOT work today.

It's a whole different scenario.

I'll explain why in a minute…

Just remember this: The same thing that happened in Germany…

...nearly happened in the U.S…

Luckily the economic situation in the '70s provided a solution to calm the virus…

But that same situation no longer exists today...

And by April 30th…

"Trumpflation" will create havoc in the United States.

Why?

Because of the "inflation trap" created in the past 20 years that Donald Trump walked into as he took office...
Numbers Don't Lie
When President Trump took the oath of office, he inherited almost $4 trillion of new money printed in the past 7 years.
You might be thinking, "Okay, Jim... where is the price inflation, though?"
Well, printing money alone doesn't cause price inflation.
People have to spend it…
Invest it...
Borrow it…
There has to be a turnover, or velocity, of money…
For price inflation to REALLY kick in.
Money has to travel through the economy…
If you tip a waiter, he takes that money and tips the cab driver, who takes that money and buys gas for his car…
You get the picture.
From the chart, see how the velocity has been steadily decreasing since the early 2000s?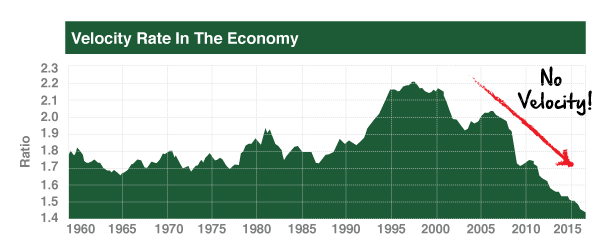 We haven't had that velocity.
People have been holding onto their money.
We have been in a deflationary period since the Great Recession of 2008.
Banks have been tight with lending credit…
So, Americans have been tight with their spending.
Saving rather than putting it into the economy…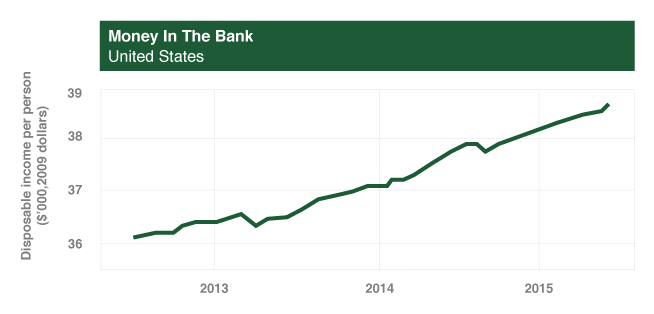 That's why there is no turnover…
No stimulation…
And no price inflation.
That's about to change…
April 30, 2017
This is the final day of President Trump's first 100 days in office.
Included in Mr. Trumps' 100-day blueprint is the passage of the American Energy and Infrastructure Act, a $1 trillion infrastructure spending bill.
If he is successful — on or shortly before this day, the wheels will go in motion for the most dramatic increase of inflation you will ever experience.
Trumpflation will rear its ugly head and hit like a tsunami…
…Just like what happened to the shock of German citizens in the 1920s.
Here's why.
Remember the inflationary budget submitted by German politicians in the 1920s that created such massive inflation?
Well, history certainly does repeat itself.
Mr. Trump will soon be submitting his very own $1 trillion infrastructure spending plan to Congress.
What does this mean for you?
Sure, a government spending bill of this scale means jobs and wages…
Which is a great thing...
But it also means more cash in the pockets of working class America.
More cash in your pocket means more spending in the economy…
More turnover…
The economy will finally heat up...
The velocity of money will finally increase.
This would normally cause mild inflation.
But this time it's different…
Trump's Stuck, and Here's Why
President Trump will soon be caught in an economic trap that we have never been in before…
You see, he believes in the Reagan playbook…
Big spending along with massive tax cuts.
Creating massive deficits.
And relying on the growth of the economy.
But today, things are much different than the 1980s…
Take a look: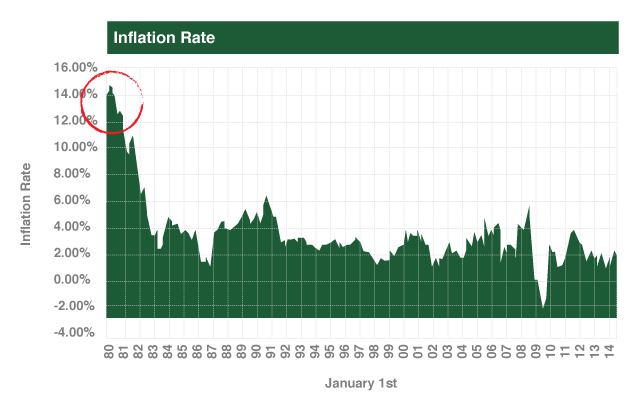 When Reagan took office in 1980, the inflation rate was 14%.
In a normal economic scenario, raising interest rates will tame inflation by easing the velocity of money again…
Taking the heat out of the economy…
Encouraging savings by more attractive rates…
So, Reagan and the Fed raised interest rates to an all-time high: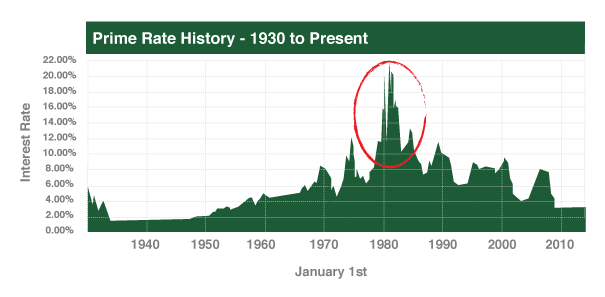 Now, compare that to today...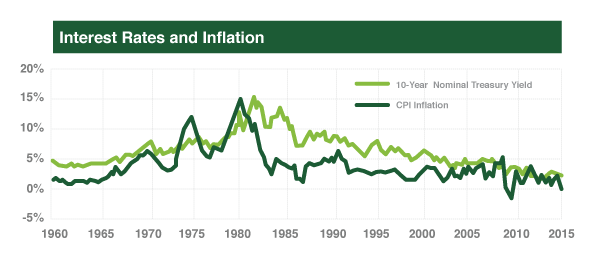 Today inflation is only 1-2%...
Interest rates are almost nonexistent…
And here's the match that will light the fuse...
Trump wants to be a big spender just like Ronald Reagan.
But unlike Reagan... he has a huge problem.
Obama has tied his hands.
Look at this: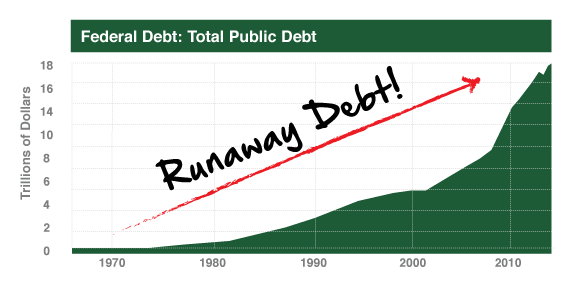 In 1980, the national debt was $900 billion.
By the time President Obama left office, the debt was approaching $20 trillion.
This mind-boggling debt is the difference.
So, unlike the inflation fix in the 1980s...
Our government CANNOT raise interest rates in the same way to combat the coming inflation.
Here's why…
Raising rates even an extra 1% would blow a massive $200 billion hole in the federal deficit when paying the interest on $20 trillion of debt.
And these rising rates would create an unimaginable debt load from interest payments on the debt…
That would crash our economy.
It's simply a matter of economics.
The only way out will be to print more money.
And remember, this time the money WILL be spent…
We WILL see the velocity of money hit the system…
High prices will cause widespread panic as people buy up commodities as fast as possible…
The stock and bond market will collapse...
As stock prices collapse, prices for necessities will skyrocket.
There won't be anything to stop it.
People will panic even more and start unloading hard assets — durable goods, cars and trucks, houses — in order to get basic necessities.
Who will be able to help once the fuse is lit?
This Isn't the First Time the Government
Hasn't Had Your Financial Back…
Remember, you won't be able to count on the government during this looming crisis.
What could they do?
Implement price controls?
That will only give rise to a rampant black market.
Put soldiers out on the street?
America is too big for that.
Pump more "stimulus" into the economy?
Sure, pump even more currency into a rapidly hyperinflating everyday economy... no way!
They might resort to food rationing.
Hand out coupon cards of some sort, for basic staples—
This might prevent riots and protect the poor, the infirm and the old—
It certainly won't change the underlying problem…
The truth is, the government won't even try to save individuals like you…
Did the government save you during the financial crisis in 2008?
Taxpayers had to foot the bill for those "too big to fail" banks…
Stock portfolios were wiped out…
Gas prices doubled…
The housing market collapsed…
The government will be much more concerned with saving itself when this runaway inflation occurs.
As far as taking care of your own money... well, that's where I can help you.
I can make sure you don't lose money and even use this situation to come out quite a bit ahead.
I Hope I'm Wrong, But I Doubt It…
Could I be wrong about the results of Mr. Trump's budget policies?
Maybe…
But I highly doubt it.
I'm just putting the puzzle pieces together.
Think of the scenario of you personally being deep in debt… then finding out you were getting a pay cut at work… and deciding to go on a shopping spree.
A $1 trillion spending spree combined with massive tax cuts spells trouble for a U.S. economy that is already deep in debt and having trouble getting up a head of steam.
And if I am wrong about everything?
Well, that's the best part…
If you follow what I recommend...
You'll still make significant money…
Even if only mild inflation occurs, you will still be prepared enough to do very, very well.
The Financial Mistake of Waiting…
So, what can you do?
Well, all of the moves I am recommending today are very simple and straightforward to put to use — at least right now.
But remember…
Timing is key.
Waiting to take action after this April 30th trigger date will make it more expensive and difficult (even impossible) to protect yourself.
If you do the things I recommend, you will be much better prepared than 99% of Americans to protect your wealth.
Plus, I believe you could also make quite a bit of money at the same time…
Here's How to Prepare (and Prosper)...
So what should you do now to protect and possibly even grow your money during this volatile inflationary period?
Here are specific steps I am taking with my own personal money…
And highly recommend that you do the same:
STEP ONE:
POSITION YOUR MONEY TO PROFIT
FROM HYPERINFLATION
Ever hear of Hugo Stinnes?
Don't worry... not many have...
Yet in the early 1920s, he became the wealthiest man in Germany…
The same 1920s Germany that was ravaged by the hyperinflation I showed you earlier.
Much like Warren Buffett today, Stinnes was a shrewd investor that always seemed to make the right moves no matter what the economic climate.
So, right before that hyperinflation period hit Germany, Stinnes began preparing...
He began making massive investments in a specific class of assets.
Then when the hyperinflation hit, his investments didn't just retain their value…
***

They skyrocketed.

Stinnes not only survived, he thrived…

Emerging from the economic chaos to become one of the richest men in the world.

He made so much money during that hyperinflationary period…

That his German nickname was "Inflationskönig," which means Inflation King.

Stinnes saw this German hyperinflation coming and positioned himself accordingly.

And now is your chance to get ahead of the damage.

Today, as in Stinnes' day…

This special class of assets could explode in value…

…While the middle class is completely wiped out, as they were in Germany.

It's not too late for you to take some of the same precautions as Stinnes.

You can take a page from the "Inflation King's" playbook and invest in this specific class of assets.

I've uncovered an easy way for you to do just that.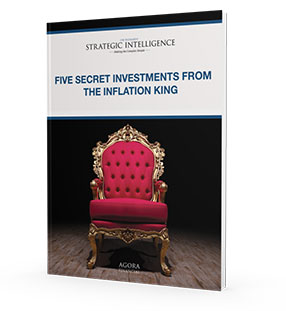 And I've put all the details in a new special hyperinflation report called FIVE Secret Investments From the Inflation King.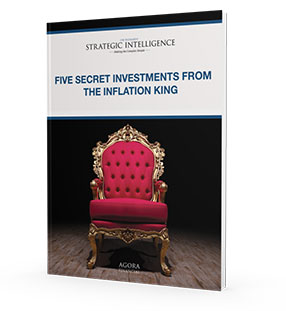 It shows you step by step how to replicate the "Inflation King's" wealth-building and protection strategy with five simple investments.
This is the ULTIMATE strategy for anyone who wants to protect their wealth…
And potentially make a fortune during a period of hyperinflation.
I expect my investments in these assets to skyrocket when this crisis hits.
And you can expect the same...
I'd like to send you this valuable information... totally free of charge.
Now, the one thing you DON'T want to do is wait too long to position yourself…
So, you can download it right now and have access to all of it just minutes from now, then start taking action immediately.
Now, here is another important step I want you to take — as soon as possible…
STEP TWO:
INVEST IN THE POWER OF GOLD
I always advise my clients to take 10% of their net worth and invest in gold.
I'm recommending the same for YOU.
Especially before this April 30th date.
Here's why…
As I have said, Trump wants to lower taxes and increase spending.
That means bigger deficits.
It also means printing more money to make up those deficits.
This will cause massive inflation.
Now, normally the Federal Reserve will raise interest rates to keep up with the threat of high inflation.
Conventional wisdom says a rate increase will push the dollar higher — and thus push gold lower.
BUT…
If the Fed were to continue to raise rates, it would make U.S. goods and services less competitive.
That would cause profits to drop.
As I have said earlier, raising rates too much would kill the fragile economic recovery.
So, the Fed doesn't want this to happen.
Therefore, their hands will be tied as far as raising interest rates very much...
So, I can't think of a better scenario for gold prices skyrocketing than still-low interest rates and higher inflation.
Therefore, the catalyst for that gold rally might well be the Fed raising rates.
Gold will soar in the months ahead…
…almost an exact replay of the November 2015-March 2016 gold rally of nearly 20%.
And with the shocking results of Trumpflation, I would be very surprised if gold does not ultimately reach $10,000 an ounce.
As I have said over and over...
In interviews with The Wall Street Journal...
To viewers on the BBC, CNN, NPR, CNBC, Bloomberg…
I'm expecting gold to reach $10,000 an ounce soon after these high deficits blow a hole in our economy.
Why is gold such an important asset to have?
Think of it this way:
In 1971, if you had $35 (what an ounce was worth) in gold…
And $35 in cash...
Today, the gold would be worth $1,203, a staggering increase of over 3,300%
During the same time period, the $35 in cash would have only $5.68 of purchasing power at today's prices.
Do not rely on the promises of the politicians by having all your assets in paper money.
The dollar has lost 93% of its value since 1913…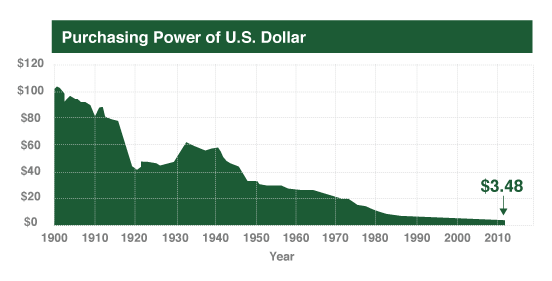 Call me nuts, but I'd rather bet on a bar of gold than a paper dollar any day of the week.
That's why the smartest investors in the world are buying up the precious metal…
George Soros, Stanley Druckenmiller, David Einhorn, Paul Singer…
Have all taken huge positions in gold.
And I think you are crazy to not do the same.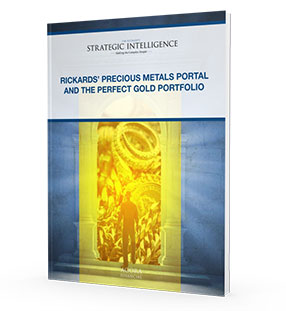 But how should you invest?
How do you make sure you're not getting ripped off?
Well, as a New York Times best-selling author on gold…
I've put together recommendations in a new Trumpflation special report called The Perfect Gold Model Portfolio.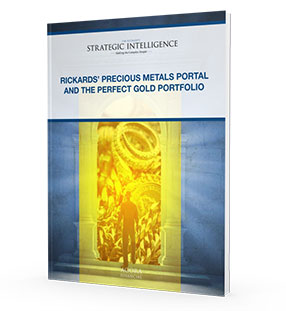 Showing you my best recommendations for investing in gold.
Again, it's yours — absolutely free of charge.
I'll show you how to claim access in just a moment…
But first, here is another important step I recommend for you:
STEP THREE:
HAVE YOUR OWN
"HYPERINFLATION PROTECTOR"
What is the best way to protect and grow your money today through any economic crisis?
Through information…
Information is the key to your financial decisions that best protect you and your family from devastation during this chaotic time.
I recommend having your own "advisor" so you can understand the minefields involved as you make your way through this crisis.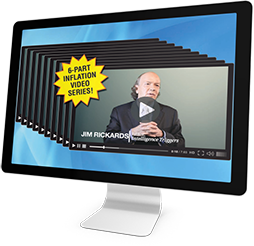 That's why I created a 6-part video series called The Hyperinflation Protection Series where I personally answer ALL the common questions about hyperinflation and what to expect in the coming crisis.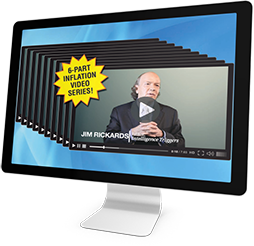 If you prefer watching to reading, then we've got you covered.
You'll receive INSTANT ACCESS to 6 videos to get you up to speed on the causes and expectations of Trumpflation so you can prepare.
There have been many financial analysts that have been talking about hyperinflation since 2008…
Perhaps you have been following their advice and wondering why the scenario hasn't happened yet.
That's why I recently sat down in our headquarters' studio to record a 6-part video debriefing for concerned people just like you.
In this series, you'll learn:
The reason we haven't experienced hyperinflation yet…
Why inflation can appear faster than most people think possible…
Why companies like LendingTree and Social Finance are some of the hottest around…
The reason why the Fed may soon resort to "helicopter money" to get inflation…
The misconception about excess banking reserves…
If there will be a repeat of 1970s-style inflation…
Why you need to be prepared for both inflation and deflation...
How your behavior can lead to hyperinflation…
What actually creates hyperinflation (not what you think…)
And much more.
Altogether, it's valuable, informative insight made exclusively for readers like you.
Considering I charge upwards of $1,000 per hour for personal consultations, this is a no-brainer…
Because I will give you access to this informative 6-part video series ABSOLUTELY FREE.
That's an incredible offer…
I'm confident you'd receive many times the value by applying the valuable information I'll share in this video series.
Which leads me to the final step for you to take…
STEP FOUR:
STAY "IN THE LOOP" BEFORE,
DURING AND AFTER THE COMING CRISIS
TO PROTECT YOUR MONEY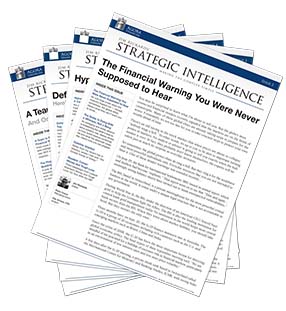 That's why I'd like to send you a one-year trial subscription to Jim Rickards' Strategic Intelligence.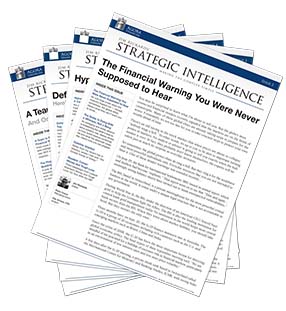 It's the world's premier financial information service available.
Worldwide, many Strategic Intelligence subscribers consider me their eyes and ears in the world of the elite economists...
Each and every month, I will keep you up to date on the best ways to protect your money and investments...
I'll make sure you stay current on the changes in the economic forecasts...
Federal Reserve moves that will directly impact your financial health...
Warnings of new government policies that will affect your investments and how you plan for your retirement years...
All before it's too late.
The Best Financial Decision
You Will Ever Make...
Each and every month, I will report on all the research that I do…
Including the most interesting investment ideas...
And what I expect to happen in the months to come.
It's an exclusive service for people that want more than what they hear on cable television…
Who want to tune out all the noise they are bombarded with on a daily basis.
And it's important to note, this will be the only place to receive my research and alerts…
This information will not be available anywhere else in the world, at any price.
Before, I have only provided this kind of research service to my high-net-worth clients and members of the U.S. intelligence community.
But with Strategic Intelligence, you too will have the opportunity to hear my best ideas on an ongoing basis.
Since we started this information service, we have helped a lot of people make a lot of money…
Here's what a few people have to say about their experience so far:
"Just want to say how much I appreciate your timely and insightful narrative each month. You are providing a very valuable service."
"Thank you for sharing your experience, knowledge, and wisdom to those vast numbers of us who fill the ranks of the 'common man."
We are indebted to you."
- Chris D., High school math professor, Baltimore, Maryland
"This is excellent value for money and I am sure every reader can feel your passion about the subject and your desire to educate us. Thank you so much, Jim."
- Bob R., Dentist, Cleveland, Ohio
"Thank you so much for all of the investment advice you have provided in Strategic Intelligence. I appreciate it very much. In researching the market and deciding what to do to protect my (very modest) savings, I have found that your analysis of the economy and your investment advice stand head and shoulders above the rest...Thank you!"
- Jeff S., Income analyst, Chicago, Illinois.
I have to say…
Nothing makes me feel better than receiving these types of notes.
That's why I'm confident that you can also benefit…
It's why I'd like to send you the full details on exactly how I believe this is all going to unfold…
...and exactly how to protect yourself and even prosper during this crisis.
The government is not going to save you when all hell breaks loose…
You can either live with the consequences…
Or...
Take a few easy steps and take charge of your family's fate.
That's why I'm giving you access to these reports absolutely free…
To sum it up, when you take a risk-free trial of Strategic Intelligence, you'll receive 3 FREE bonuses...
Special Report #1 : FIVE Secret Investments From the Inflation King
Special Report #2: The Perfect Gold Model Portfolio
Special Report #3: The Hyperinflation Protection Video Series
And that's not all…
Also included with your risk-free trial subscription is a special username and password that gives you unlimited access to past issues of Strategic Intelligence using our special "members only" website.
You'll also receive regular FLASH EMAIL ALERTS — timely updates from my network of some of the greatest financial minds in the world.
The important thing to remember about financial moves is that market conditions often change overnight.
This exclusive "inner circle" helps guarantee you're never caught off guard during political, banking or economic crises…
And that you can react in a timely manner to protect your wealth.
Look... I have to tell you... I am concerned that many hardworking Americans like you are going to get caught by surprise when this inevitable crisis becomes a reality.
You could think of my service as a form of insurance for your money...
As in auto and health insurance, you never know when you might need it.
So, how much does my research cost... and how can you get started?
Before I show you, let me cover one more bonus that comes free with your subscription…
I've recently finished my fourth and most important book to date.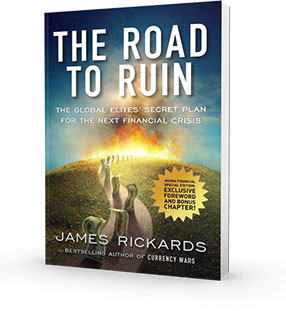 It's called The Road to Ruin: The Global Elites' Secret Plan for the Next Financial Crisis.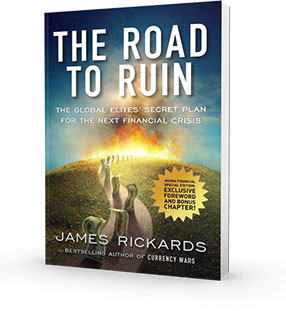 You can consider it the policymakers' blueprint for the next financial crisis.
It's yours free as soon as I hear from you today.
Read it carefully…
This particular edition is a special printing containing bonus material that the public will not be able to buy through Amazon or Barnes & Noble.
You'll learn…
The U.S. government's "ice-nine" plan to steal your wealth and prevent you from getting your cash. If you have a dollar to your name, you need to read page 10.
The government's "Private Stock Market Spy" that can and will pressure you to NOT sell stocks, bonds and ETFs during the next crisis... even if the stock market is in total freefall and you want to! (Pg. 19)
The "Brisbane Rules" that could instantly transform any cash you have into what's called "Forced Shares of Stock." They're exactly that… a piece of paper you don't want and you never asked for that basically steals your money. The U.S. government approved these rules with few Americans knowing about it. (Pg. 26)
On page 55, I reveal the global elites' shocking plan for physical gold... (Spoiler alert: It's NOT to recreate a gold standard. Far, far from it.)
The two-centuries-old "Clergyman's Formula," created in 1763, that can help you forecast the future so you can manage your money more profitably... I've shown people how to make as much as 141%, 150% and even 165% using this method. It's not difficult to learn... see what it is starting on page 155.
A new 21st century twist on "the bank run" that will soon leave most Americans empty-handed. (Pg. 164)
Why U.S. dollars are in short supply just like gold. Most Americans find this hard to believe because the Fed has printed trillions of new dollars. But the shortage is real and has serious consequences for your bank and brokerage accounts. Those who ignore this counterintuitive truth are doomed to suffer its consequences... be sure to read page 164.
And much, much more valuable information…
Again, this informative book is absolutely FREE along with my 3 special reports when you take a trial subscription to my monthly service.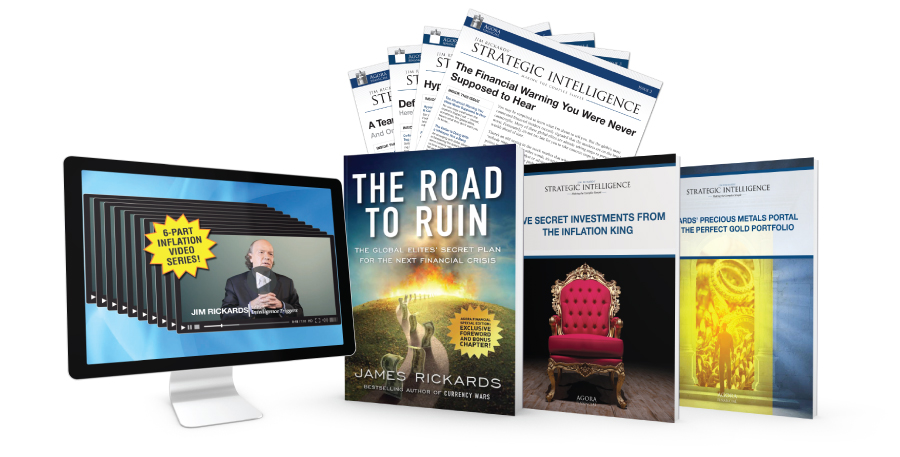 Normally, my new book would cost you up to $25 in a bookstore.
Or you could pay $16 on Amazon.
As I said — and with your permission — I want you to have a copy, absolutely free.
All I need is a valid mailing address here in the U.S.
I'll get my publisher to put your copy in the mail immediately.
We'll cover any shipping costs too. That way, you get a great resource... without any risk for yourself.
You'll Be Shocked
How Surprisingly Cheap It Is...
Now, a one-year subscription to my research is very affordable...
Everything I've mentioned in this letter normally costs $99 per year…
But to get this information to you as easily as possible, you can try out all my research for HALF OFF the normal rate and just pay $49 for an entire year.
That's less than 14 cents a day…
Is that worth the chance to protect your family's money and create wealth for your future?
You'll have the next full 12 monthsto leisurely take a look at the special reports and book I have just described along with the monthly issues of my service.
If you decide for ANY REASON that my work is just not right for you, you can receive a 100% refund, no questions asked…
Even if you notify me on the final day of your trial membership…
Remember…
Unconditional 365-Day Money-Back GUARANTEE

I want you to be thrilled with everything you receive from me today and in the future. In fact, I insist on it! I recommend you start acting on the information you'll discover in the Hyperinflation Package Plan IMMEDIATELY.
Yet I don't want you to feel pressured. So I'm giving you 365 days — ONE FULL YEAR — to review everything you're getting today plus the frequent updates I provide in my Rickards' Strategic Intelligence briefings.
If at any time during the next 365 days you're not completely convinced this is the best financial decision you've made in your life, then I don't want your money. I insist you call my office and request a 100% refund with no questions.
AND you keep everything I send you today as a thank you for viewing my service.
What Is Your Financial Security
Worth to You?
There is no downside to agreeing to just try my work and seeing if it's right for you…
But plenty of upside when you discover it will be one of the best financial moves you will ever make in your life.
Look, I know in my heart you worry about your money… your family's security… the instability of the current state of the world… new budget policies being put in place under a new administration...
That's why I hope you'll consider this offer and realize that staying ahead of the pack is essential…
Having the information you need for the best financial moves is critical for your family's wealth in the coming years.
An Easy Order Form Is Waiting for You...
To get started, simply click the "Subscribe Now" button below, and you'll go to a secure page where you can review all the details.
But don't worry…
You won't commit to anything when you click the link.
You'll be able to review all the information.
But I urge you, don't delay…
The conclusions reached are indisputable and extremely dangerous.
Remember, timing is everything when it comes to financial matters.
In our fast 24/7 financial information world, it's nice to have someone "have your back" when it comes to your money.
When this crisis hits, you'll at least know what's going on…
And will have prepared before 99% of America get slaughtered.
To get started, simply click on the link below for instant access to a secure order form...
I wish the very best of luck to you and your family.
Sincerely,
Jim Rickards



Founder, Jim Rickards' Strategic Intelligence
February 2017
SUBSCRIBE NOW