You Heard Jim… Now Act…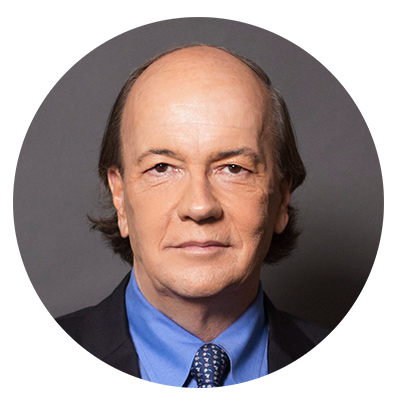 Jim has been warning for months that Biden was paving the way for Russia to invade Ukraine…
And now that it's finally underway he's dropping the biggest bombshell of them all.
What comes next and exactly what you need to do to protect your investments.
In today's live recorded zoom call Jim detailed three major bombshells that could affect your investments in the months to come.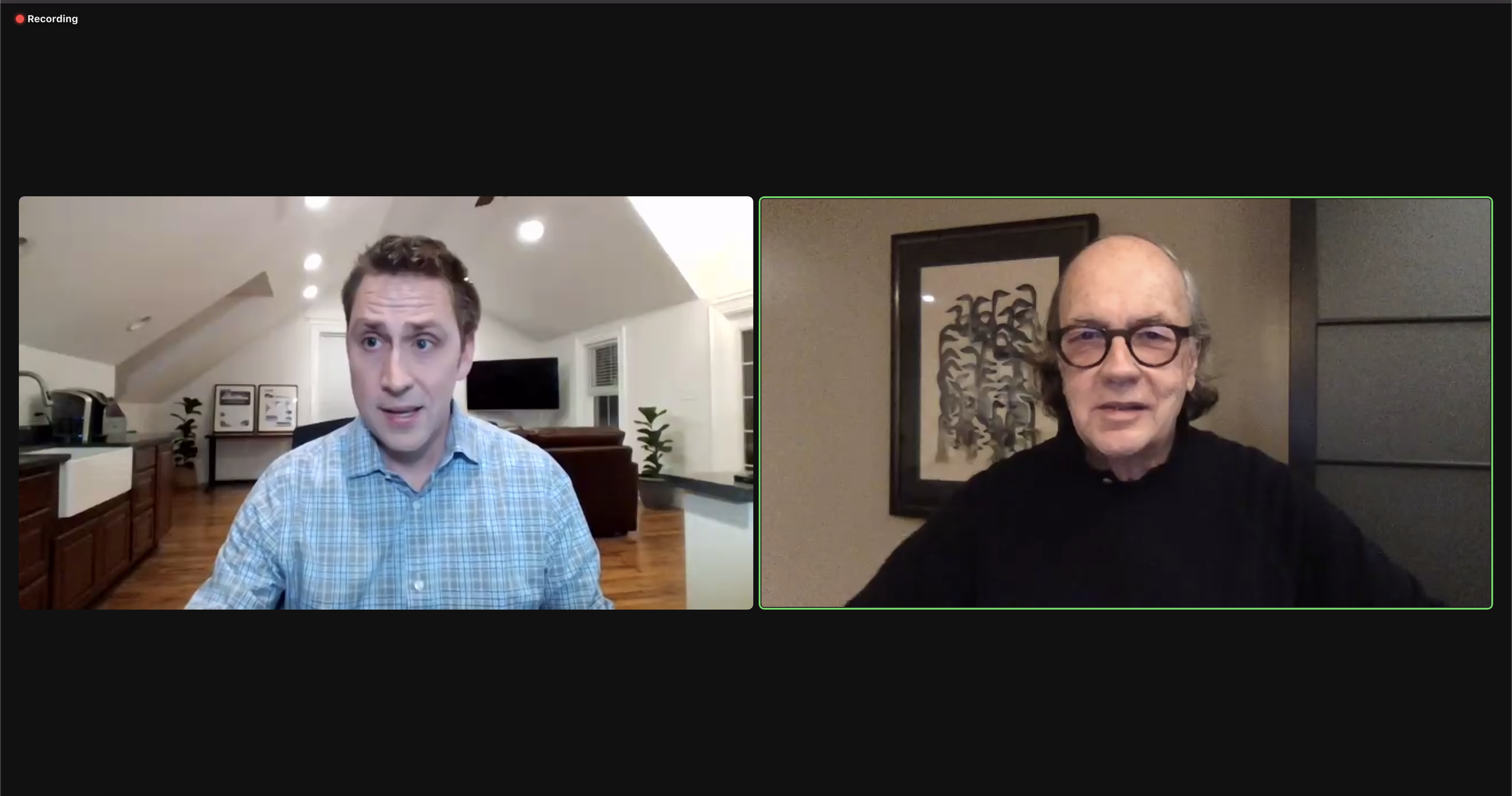 And with thousands of links to this call being shared around the internet as we speak...
I believe this live video recording will prove to be one of the most valuable wealth preserving tools for the months ahead.
But as a loyal Jim Rickards reader I think you deserve more than just that.
You deserve real-time updates and recommendations as each stage of this crisis unfolds.
That's why today, in addition to sending you today's entire call in its raw and unedited format... (along with Jim's complete write up of what's to come).
I want to make a special offer to everyone who attended today's event....
It's an offer we have never made before and will likely NEVER make again...
An offer that will give you EVERYTHING you need to know to stay ahead of the geopolitical turmoil we could see in the months ahead.
You see, it will allow you to do a one-time upgrade to your account…
And receive access to everything Jim publishes…for life.
Without having to pay any of your regular subscription fees.
It's called Unrestricted Clearance.
I'll go over exactly everything this Unrestricted Clearance offer covers in a moment (I can almost guarantee you won't believe me when I tell you)
But the real question you should be asking yourself is…
Why are we doing this?
Well let me tell you an open secret about our business…
You see, our business depends on loyal, long-term customers. A lot of people come and go. They don't do us any good at all. Or themselves.
We work hard to provide the best investment research in America.
That's why we work with Jim Rickards, the top macroeconomist in the world.
But investing and protecting your wealth is not easy. There's no one-size fits all solution. Instead, you need everything that Jim publishes.
And that's why I'm making you an incredible offer today…
To give you a chance to kick the tires…to look under the hood…to take the car out on the road and see what she'll do.
Because Jim's been able to get our readers ahead of some of the biggest moves in the market.
In fact, in September 2006, a full two years before the 2008 financial meltdown…
He began warning our intelligence officials in Washington of a looming financial crisis.
His full thesis was so in depth, that the CIA circulated his warning among its senior staff.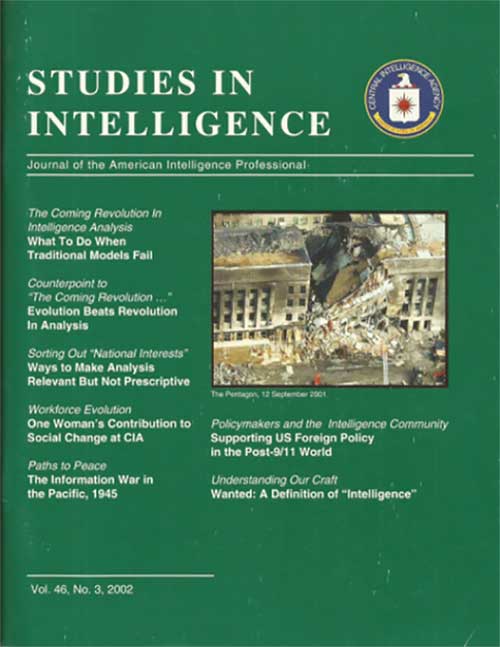 It appeared in the CIA's official journal, Studies In Intelligence.
That material remains classified to this day.
But nevertheless in August of 2007, he shared the same warning with officials from the US Treasury department.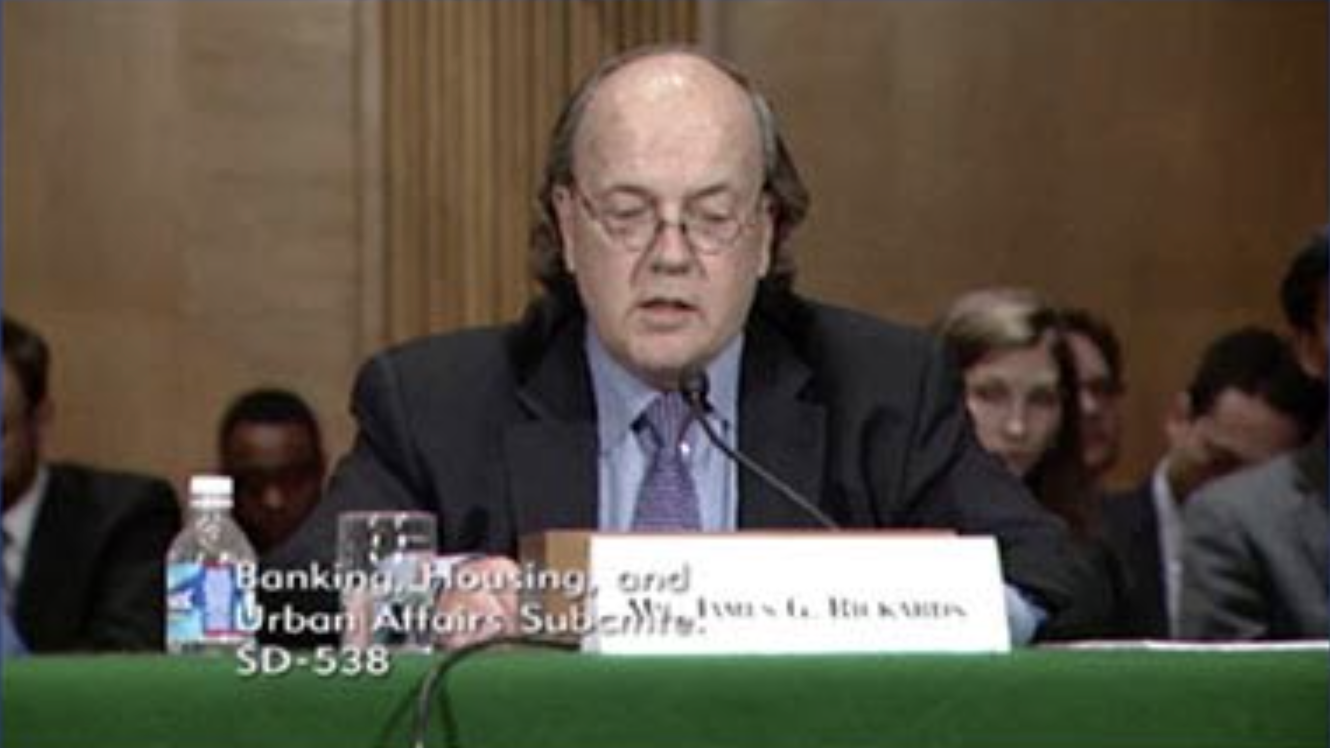 But Washington still failed to heed his warnings.
We all know what happened next…
As the world entered one of the worst financial crises of our lifetime.
However, anyone who listened to these repeated warnings was able to side-step the carnage.
But long time readers know that's not the only event that Jim has been ahead of.
In fact, Jim has been at the forefront of nearly every major economic event of the last 20 years.
His analysis and mathematical models have allowed him to predict Brexit, the election of Donald Trump, and even the 2020 Corona Virus crash.
Needless to say, our inboxes have been flooded with messages from readers raving about Jim.
Like this note from Geoffrey Chrisly...
Or this note from Patrick Neal…

Or how about what Ken Franks wrote in to say…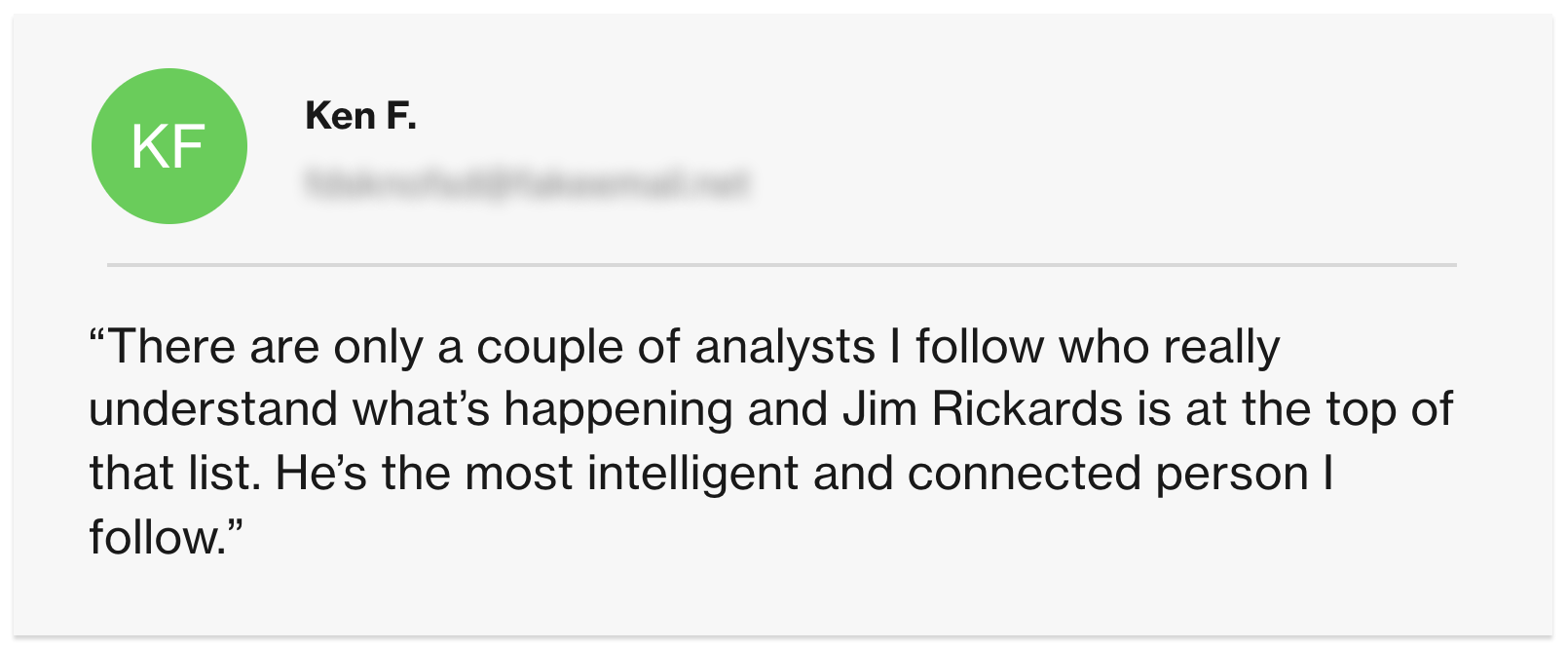 And now with the global economy being in the most fragile state it's ever been…
I am looking to help out our most loyal readers.
That's why…
I'm Giving Away A HUGE Discount On Jim's Unrestricted Clearance… So You Can Get ALL Of Jim's Research For LIFE Without Having To Pay Your Regular Subscription Fees!
Once this discounted Unrestricted Clearance is applied to your account…
You'll be able to utilize all of the research offered by Jim (including his macro-economic analysis, currency trading strategies, gold research, and downside preparation services).
Year after year.
Without having to pay any of your regular subscription fees.
In fact just take a look at everything you're going to get access to.
Jim Rickards Strategic Intelligence: (Value $500)
Jim Rickards Gold Speculator: (Value $5,000)
Jim Ricakards Tactical Currency Profits: (Value $5,000)
Jim Rickards Crash Speculator: (Value $5,000)
Jim Rickards Strategic Intelligence Pro: (Value $500)
That is over $16,000 in value!
And considering the average subscription to most of our high-end products costs $2,000 each.
Just by eliminating your typical yearly subscription fee…
You could be saving thousands of dollars on your subscription fee this year..
But I'm not stopping there.
You see, this Unrestricted Clearance discount is going to do more than just give you access to our publications.
It will also get you special access to a whole slew of benefits that aren't for sale anywhere, at any price.
For instance:
Private Strategy Briefings
Did you enjoy today's virtual event?
Where Jim was able to give a 2 hour deep dive on topics that matter, with analysis you'd hear nowhere else?
Well get used to that.
Because with Unrestricted Clearance…
You'll be given a special access link to every time we host a call.
So you can listen in and hear our editors talking about their biggest ideas live.
Imagine the opportunities you could have if you had an "ear in the conversation" every time Jim breaks down his analysis on an urgent macroeconomic event...
(He did call Brexit after all)…
And getting ready for the potential fallout from reckless monetary policy.
(Like when he coached our leaders through the LTCM bailout and warned of the dangers in the housing market in 2007).
As an Unrestricted Clearance member you don't have to worry about missing anything…
You'll be ushered past the velvet rope to every single virtual conference and summit we host.
And receive special invitations to all LIVE events like these at no additional charge.
And you'll be treated like a VIP too.
In fact, we've got something big planned for the people who claim their Unrestricted Clearance today…
But before we get to that…
Let me rush you your copy of...
World At War — Russia, Ukraine,
and the Coming Global Powderkeg Dossier
You see, on the Zoom call, Jim only scratched the surface of what lies ahead.
That's why he's busy writing up the full details of the situation — along with THREE brand new recommendations — in a 20-page briefing.
It's called "World At War — Russia, Ukraine, and the Coming Global Powderkeg"
And while Jim is still busy finding the absolute best plays, it will be available exclusively to Unrestricted Clearance members this upcoming Monday.
And it will be the FULL rundown of Jim's thoughts. He outlines everything you need to know about Ukraine, Russia and unveils the three ways to help protect and grow your wealth.
But time is ticking on this report and our "Zoom-only" special deal.
You're Just One Simple Step Away From
Securing Your Unrestricted Clearance
When you act immediately to claim your discount…
You'll get immediate access to everything Jim publishes…
Without having to pay any of your regular subscription fees…
How much is having this Unrestricted Clearance membership worth to you?
Before you answer, consider this…
The access to the research that you're getting could cost you $16,000 per year.
But you're also getting benefits and bonuses that could be worth thousands upon thousands all on their own.
For instance, the LIVE event invitations and the "Economic War Games" ticket aren't for sale right now anywhere, at any price.
Typically, this service would be valued at $16,000 per year…
But like I said…
With this Unrestricted Clearance Membership…
You Won't Pay Anything Close to That Amount!
I believe it's so critical that you get the full benefit of ALL of Jim's services as we enter 2022…
So much so that I'm going to allow you to join for a one-time fee today of just $2,495.
And when you do…
You'll automatically receive Unrestricted Clearance for LIFE…
So you can get access to all these benefits today.
And after that you won't have to pay a single subscription fee for any of Jim Rickards' research again.
I can tell you that we have never offered a deal this good for this level of service in the entire history of our company…
In fact, we are only able to offer this because of the amount of money we saved on doing this summit virtually instead of in person…
But we cannot guarantee something like this ever again.
In fact, the amount of value you are getting for that price borders on the insane…
Just to recap here's everything that
your purchase includes:
Jim Rickards Strategic Intelligence: (Value $500)
Jim Rickards Gold Speculator: (Value $5,000)
Jim Ricakards Tactical Currency Profits: (Value $5,000)
Jim Rickards Crash Speculator: (Value $5,000)
Jim Rickards Strategic Intelligence Pro: (Value $500)
Access to Our Strategy Briefing Calls — Where you'll get insight and recommendations not available anywhere else.
Invitations to Live Events — every time we host a live event, you'll get a special invitation sent directly to your inbox.
COMING SOON: Jim's interactive "Economic War Games"
No renewal or maintenance fees — Forever
But as part of this special offer - I'm sweeting the pot:
Those Who Claim Unrestricted Clearance Today Are Going to Get A Special Gift
Right now I'm letting you upgrade your account to a "VIP All-Access Membership" and get all the benefits that entails for life…
For just a one-time fee of $2,495.
Just think about…
For the price of your regular subscription fee to just one of our premium services…
A fee you were already going to pay to keep one of those services next year.
I'm giving you the chance to receive EVERYTHING we publish…
And waiving ALL of your other subscription fees forever.
If you don't understand the value in that…
The value of having access to all of the research and every money-making opportunity we offer…
The value of all the other benefits we've put together for you…
Then to be quite frank…
Our service probably isn't the right fit for you.
But if you're the type of person who understands what this is worth…
And you're excited about the opportunity I am presenting YOU.
Then I want to reward you for acting early.
You see, the real benefit of what I'm offering you today, isn't just the research, the reports or the recommendations…
It's that I'm inviting you to Jim's "inner circle"…
You see, with this Unrestricted Clearance…
You'll Have Access to Opportunities That Most Customers Could Only Dream Of…
In Fact, I'd Like to Prove It to You by Inviting You To The 2022 Economic War Games
You see, one of the things Jim is well-known for is helping the intelligence community host their first ever Economic War Games.
It was at a top-secret weapons laboratory outside of Washington D.C., conducted by the Pentagon.
This was where they stress tested the U.S. financial system against threat from other countries.
And it was there that he discovered some of the secrets he still uses to this day to help show a small group of people how to profit from massive geo-political events.
Things like:
The secret moves China and Russia have made over the last 10 years in preparation for a financial war with the U.S. (And how you can use a "ride-along method" to position yourself to profit).
An example of a real economic war that's raging as we speak along with my number one way to profit (most people have no idea this is going on, but once you understand this you'll see exactly why this is such a great opportunity and why so many people are being left in the dark about it).
Why major cryptocurrencies like Bitcoin are more susceptible to financial wars than you think (and why they could be on the cusp of getting slaughtered).
The REAL story behind most of the geopolitical headlines you see (You think that China's pressure on Taiwan or Russia posturing in the Ukraine is just about geo-politics. Think again. I'll show you the REAL reason many of these headlines are hitting the news cycle and what that could mean for the U.S. and your investments).
The three major currency wars that have broken out since 1921 (and the shocking conclusion that could come of the one we are living through now).
And now he wants to teach them all to YOU
You see, the global economy is the shakiest it's been in decades.
And with rapidly developing situations out of the Ukraine, Russia, and the entire world economic system…
Jim want to make sure you understand how to preserve your wealth and capitalize on the chaos.
That's why Jim is hosting his version of the 2022 Economic War Games this March.
Where you'll get to chance to participate in a real simulated War Games event with other subscribers all hosted by Jim Rickards himself.
Jim has charged as much as $20,000 to host these for private defense contractors in the past.
But with your Unrestricted Clearance acount…
You'll get free access to the virtual event.
So…
‌

The Way I See It…
You Only Have Two Options

Listen, I wish we could offer everyone access to this level of service through today's special deal.

But the truth is…

Because of the sheer value of this opportunity and upgraded level of service…

We can only offer 500 of these memberships today through this deal…. (And with over thousands of links sent out for this event, we expect them to go fast.)

So we are going to have to let everyone in on a first come, first served basis.

That's only fair…

So if you want to become a "VIP All-Access Member", then you need to take advantage of this deal right now.

That being said, this offer should really be a no brainer.

Just consider what I've worked out for you.

You just heard from one of our TOP analysts on a live Zoom call, for FREE.

So you've already stepped on to the red carpet.

Now you have the chance to be on our VIP list forever (for the lowest price we'll ever offer.)

Once you're upgraded to Unrestricted Clearance…

Not only will you get all these brand-new benefits…

But all your subscription fees will be waived for life.

And your Unrestricted Clearance will be applied to your account forever…

So you can get these same benefits year after year without having to pay the any of the regular subscription fees

So if you take advantage of this offer, you'll be saving at least $2,000 on a single premium research service.

And over $16,000 in value if you tried to subscribe to all of these services individually, on an annual basis.

Plus, you'll be getting unlimited access to ALL of Jim's research.

And a whole slew of other benefits that aren't for sale anywhere at any price.

So you essentially have two options.

On the one hand, you can take me up on this offer today and get a lifetime of access to ALL of Jim's publications for an unthinkably low fee of $2,495 today.

And lock that price and all of these benefits in year after year…

Or…

On the other hand, you can ignore this message and pay at least $2,000 just to renew a regular membership to a single premium service. And run the risk of missing out on another stellar year by his other publications.

But don't wait long to decide…

Because we only have 500 of these memberships available today, and with thousands of people getting access to this call today…

We have to offer them on a first come first served basis. NO exceptions.

Remember, with this upgraded all access account you'll NEVER have to worry about missing a single money-making opportunity for as long as you are a customer.

These discounted memberships will likely go FAST (probably in just a matter of hours)

So this may be your LAST chance to grab one — take it and secure your chance to make 2022 your best year ever.

Click Here To Claim Your Unrestricted Clearance And Upgrade Your Account

I look forward to welcoming you as a member.

See you on the other side!

Sincerely,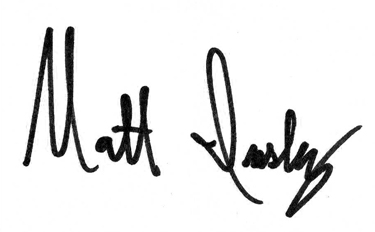 Matt Insley
Publisher